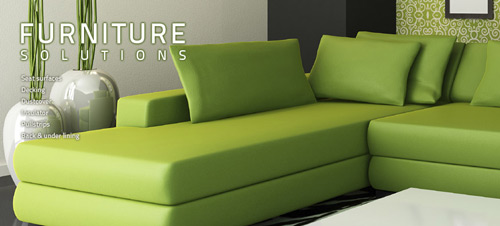 Summary: When a top-tier furniture manufacturer faced the challenge of producing a lightweight yet durable sectional sofa, they turned to Acme Mills for a transformative solution. Utilizing our patented material, Dymetrol®, we were able to not only meet but exceed the customer's requirements by eliminating the need for heavy internal components commonly found in traditional sofas. This collaborative approach not only resulted in a product that boasted both comfort and style but also led to significant savings in weight and production costs for the manufacturer.
---
Industry: Furniture Manufacturing
Category: Material Innovation & Product Design
Processes: Material Sourcing, Product Development, Collaborative Design
In the furniture industry, the challenge of balancing comfort, durability, and lightweight design often becomes a heavy task. When a leading furniture manufacturer sought to create a new kind of sectional sofa that would defy these conventional limitations, they approached Acme Mills. They had a very specific wish list: the sofa needed to be lightweight for easy shipping and movement, durable enough for long-term use, and as comfortable as the more bulky options on the market.
Traditional sofas usually employ a variety of heavy internal components like springs and foam padding. These components, while contributing to comfort, significantly raise both the weight and cost of the product. Production becomes expensive, and shipping costs soar, affecting both the manufacturer and the consumer. Our client was no stranger to these issues and wanted a groundbreaking solution that would give them a competitive edge.
Our team quickly identified the patented material Dymetrol® as the ideal solution to the manufacturer's needs. Known for its lightweight yet durable properties, Dymetrol® eliminates the necessity for many traditional internal components. We immediately initiated a collaborative design process with our client, meticulously working to balance style, comfort, and durability. After several iterations, we arrived at a design that met all the criteria. The furniture was not only lightweight but also comfortable and stylish, reflecting the high standards our client upholds in the marketplace.
The result was an up-level sectional sofa that met and surpassed the client's expectations. The thin profile did not compromise comfort, and the weight savings were substantial—leading to reduced production and shipping costs for the manufacturer. Our client was elated with the new product, which quickly received glowing reviews from consumers. The lighter sectional also allowed for more flexible and economical shipping options, making it easier for the manufacturer to reach a broader market.
Acme Mills not only provided a solution but also helped redefine what's possible in furniture design. We proved that comfort, durability, and lightweight design don't have to be mutually exclusive. It's not just about solving a problem; it's about setting a new standard for an entire industry.
Dymetrol® Key Advantages
Weight savings
Cost reductions due to fewer quantities of parts
Recyclable
Available with flame-retardant finish
Easily adaptable for automated installations
No squeaks or rattles