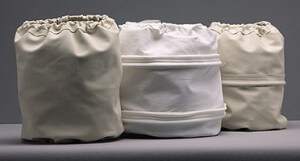 Great Lakes Filters' patented Flex Socks are designed to offer flexibility, strength and a versatile connection solution for vibratory screen equipment such as: Kason, Siftex, Rotex and many more.
Made from 3-ply material, Flex Socks are ideal for vibratory screening and sifting equipment. The two outside layers are stretch "Leno-weave" nylon for strength and abrasion resistance. The neoprene center layer provides extensive flex life. A special material is also available for temperatures over 255°F.
For applications where permeability without dusting is required, Great Lakes Filters also offers the Dura Sock.
Both Flex Sock and Dura Sock products are made in both standard and special made-to-order sizes, such as tapered connectors. We can also offer continuously tubed diameters that your maintenance personnel can cut to length as required.
---
Industries and applications for Flex Socks:
Contact us today for consultation on Flex Socks and Dura Socks: (800) 521-8565