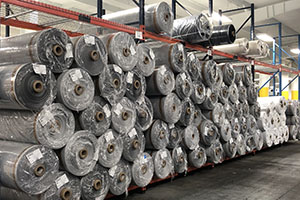 Needlepunch fabrics are created through a newer, more technical process instead of a weaving process. Barbed needles bind fibers together to create felt or fabrics in accordance with required specifications.
Great Lakes Filters can provide superior quality non-woven needlepunch fabrics for uses in healthcare, filtration, manufacturing, and landscaping industries. We work with you to customize the long-lasting, economical textiles needed for your exact application and can offer a variety of fiber lengths, materials, and needle combinations.
Our manufactured fabrics are strong, stable, long-lasting, and economical. They resist UV light, insect and rodent damage, deterioration, rot, and mildew.
Contact Great Lakes Filters today and get a free quote for your needlepunch fabric.
Polypropylene
Polyester
Wool
Automotive
Landscaping
Laminating and Coating
Filtration
Drainage
Medical and Healthcare
Molding
Excellent Permeability
Strong
Dimensionally Stable
Non-Biodegradable
Damage Resistant
Lightweight
Economical
UV Resistant