ComfortSpan UX Textured Polyurethane Coated Suspension Fabric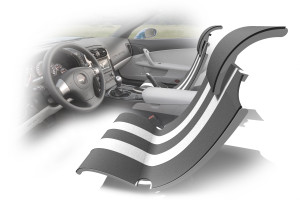 ComfortSpan UX is a new addition to the ComfortSpan® line of products by Acme Mills. Its "A-Surface" is comprised of a textured, colored PVC material that can be designed and manufactured to simulate any polyurethane or "faux leather" application. The substrate is a Dymetrol® suspension fabric that has unparalleled comfort, durability and designability. It is a completelty unique product from the standpoint, it's infinitely configurable. Any texture or color that you could put on Polyurethane, you can put on UX.
ComfortSpan™ products have been the gold standard for automotive seating suspensions for nearly 20 years. But did you know that they have been integrated into hundreds of other applications as well?
Our products hold critical advantages over every other suspension material as evidenced by our customer's recent successes. Our ComfortSpan UX product was the key enhancement that lead to our clients winning international seating design awards including the renowned Interzum award.
Features
100% Textured Polyurethane Face
Hytrel Suspension Fabric Underlayment
Specifications
Width: 54 inch/137 cm to 58 inch/147 cm or less
Weight: 550 grams per square meter +/- 10%
Cleanability Code: S/W (Soap and Water)
Wear: 100,000 + double rubs Wyzenbeek Wire screen (ASTM D-4157-82)
Crock: Wet 5/Dry 5 (AATCC-8-1988)
Colorfastness:
Gas Fumes (AATCC-23, 3 cycles) Class 4-5/Little to no color change
Fadeometer Test (AATCC-16A-90, 100 hours) – Class 5/No color change
Weather-O-Meter (Xenon Arc, SAE J-1885) 225 kj/m2: Little or no color change
Sulfide Staining (ASTM D-1712-89) No Staining