Comfortzone High Performance Fabric for Seating Suspensions
FINALLY A SOLUTION FOR ULTIMATE SEATING COMFORT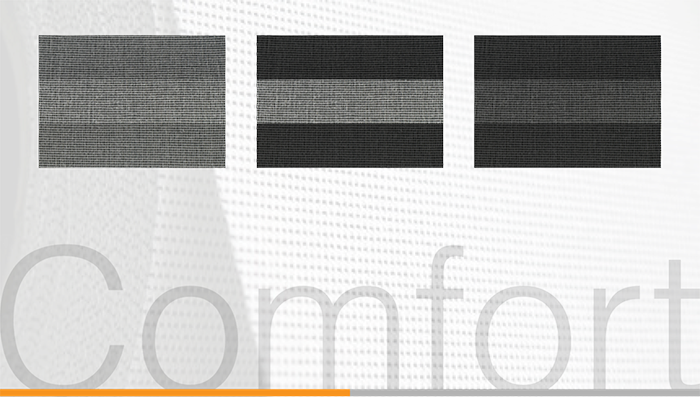 Comfortzone™ is a revolutionary material born of high tech synergies providing game changing opportunities in the furniture, aerospace and automotive markets.
An ergonomic, economic and ecologic suspension system for all types of furniture applications. Acme Mills' high performance
suspension fabric provides the flexibility to create contemporary and traditional style profiles and is available in an infinite range of
firmness levels. From soft to extra firm, Comfortzone™ offers complete customization in seating to meet specific requirements
for deflection, comfort, durability and style.
Comfortzone™ fabrics weigh less, require fewer materials and can be assembled faster. All these advantages result in increased cost savings.
Comfortzone™ is woven with high strength elastomeric monofilaments and polyester spun yarn that work in partnership to create a support system that is comfortable and durable. Its most important attribute features the elimination of sag and delivers consistent resilience
over many years of service.
Comfort Span
Founded in 1917 as a textile supplier to Ford Motor Company for the Model T, Acme Mills has been creating creative textile solutions for their clients for 96 years. As a part of the Acme Group we are a unique provider of industrial fabrics, textile services and recycling solutions. The Acme Group consists of four divisions – Acme Mills, Fairway Products, Great Lakes Filters, and our minority owned business partner – Ervins Group. Collectively, these companies develop, manufacture, customize and distribute textiles and fabrics for a wide range of industries and applications.
Product Specification
| Specification | English | Metric |
| --- | --- | --- |
| Fiber |   |   |
| Weight | OSY | GSM |
| Air Perm | CFM/FT2 | L/M2 |
| Construction |   |   |
| Yarn Type |   |   |
| Burst | PSI | kPa |
| Finish |   |   |
| Scrim |   |   |
| Thickness | Mills | mm |
| Grab Tensile | lbs | N |
| Strip Tensile | lbs/in | N/S cm |
| Trap Tear | lbs | N |
| Max. Operating Temp. |   |   |
| Misc. |   |   |
|   |   |   |
| Standard Put – ups – Roll Sizes |   |   |
| Standard Core Size |   |   |