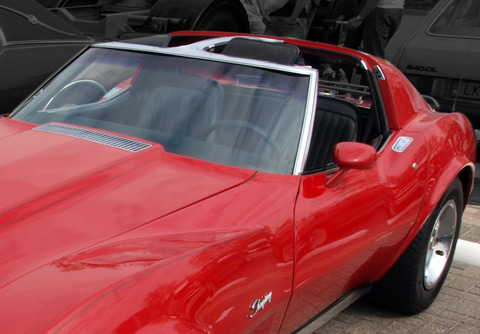 Summary: When American Sunroof Corporation and Webasto Sunroofs needed a protective bag for convertible T-tops, they sought a fabric that could offer both strength and cushioning. Acme Mills, with its expertise in textile engineering, developed a custom felt solution that met these criteria and passed stringent industry certifications. Both companies were pleased with the high-quality protective bag and its cost-effectiveness, affirming Acme Mills' reputation for delivering superior products.
---
Industry: Automotive & Manufacturing
Category: Material Development & Custom Fabrication
Processes: Material Testing, PPAP Quality Verification, ISO Certification, Custom Fabrication
In an industry where the details make all the difference, American Sunroof Corporation and Webasto Sunroofs stand out for their exceptional quality and craftsmanship. When they approached us to develop a protective bag for convertible T-tops, we knew we were the perfect match to exceed their high standards.
The client sought a bag that could cushion and protect convertible T-top panels when stored side by side. The felt material needed to offer strength and durability, ensuring that the panels remained in pristine condition. The challenge was to combine these properties while meeting rigorous industry standards.
Leveraging our extensive experience in textile engineering, we set to work on creating a felt that would serve the client's purpose. Our development process included rigorous testing, and the final product passed PPAP Quality Verification and earned ISO Certification. The resultant felt was not only robust but offered excellent cushioning, ensuring the T-top panels would be well-protected.
Both American Sunroof Corporation and Webasto Sunroofs were elated with the end product. Not only did the bag meet their stringent quality specifications, but we also managed to produce it at a cost-effective price point. This collaboration not only fulfilled their immediate needs but also showcased our ability to develop high-quality custom solutions that meet industry standards.
Custom Textile Key Advantages
Spacer fabrics
Wovens & non-wovens – including woven bags
Re-usable, returnable product protection – dunnage
High-end product packaging solution