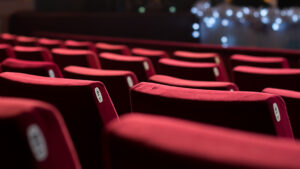 Don't underestimate the importance of industrial textile solutions, because Americans take their seating very, very seriously. Don't believe it? Here's what you should know.
Movie Theater Seating.
Box office sales might be down, but Americans still love going to the movies. Adults ages 21 or older are about three times more likely to catch a movie than they are to head out to bars/nightclubs once a month or more. At the same time, about 62% of American adults go to the movies every year. Unfortunately, that's still not enough for theaters to get by. In order to put more people in their seats, many movie chains have begun looking for textile solutions, and found the answer they're looking for. An RBC survey shows that consumers like theaters that have upgraded their seats. Nearly a full quarter (24%) of those surveyed said that AMC was their favorite theater because it focused on improving the customer experience with bigger, better seats.
Airline Seating.
When Americans fly, they like to fly comfortably. According to a recent poll by Tripadvisor, about 30% of Americans who responded said that comfortable seating is the single-most important improvement an airline could make. In other words, if airlines want to get more people to fly with them, they need textile solutions that will improve their planes' seats.
Children's Car Seating.
Automotive textile manufacturers have an incredibly important job, because children's car seating isn't just about comfort — it's also about safety. The Centers for Disease Control and Prevention report that car seat use reduces the risk for death to infants under one-year-old by 71% and toddlers up to the age of four by 54% in passenger vehicles. Booster seat use also reduces the risk of serious injury by 45% for children between four and eight.
Seating is a lot more important than you might think. Not only can industrial textile manufacturers help put more people in airline and movie theater seats, they can also help save lives.
If you have any questions, feel free to share in the comments.